Sync.com Online Cloud Storage – Business Review October 2019
Sync.com
1TB/user $5.00/month/user
Pros
Zero-Knowledge encryption
Not subject to US Patriot Act
30-day money back guarantee
Unlimited file sizes
Unlimited bandwidth
Great sharing features
HIPAA compliant
Cons
Live support only for Pro Advanced
For companies up to 50 people
No Linux client
---
Sync.com Online Cloud Storage – Business Review
Sync.com Business Review: Sync.com is an online cloud service from Canada. The great advantage of owning a Sync.com Business account is the security and privacy that comes with it. The whole system is based on a "Zero-knowledge" encryption. They are also not subject to the US Patriot Act. All your files are safe and available only to you. Sync.com is also suitable for healthcare and accounting firms since it's HIPAA compliant.
Sync.com is a great solution for smaller enterprises with up to 50 people. Studies have shown that by moving to a public cloud, companies saved money since they didn't have to maintain the private cloud on their premises. If you don't have a cloud yet, it will also increase the effectiveness and organisation of your teams and employees within your company. You can read more about the advantages of owning a cloud for your business here.
Read more about Sync.com down below.
---
Jump to:
Pricing & Plans
Collaboration
Storage Features
Security
Support
Conclusion
---
Pricing & Plans
Sync.com has two plans for you to choose between. Features of the both are the same, with an exception of the amount of storage you get. These plans are suitable for small businesses with 2-50 users. They're also very affordable when compared with other cloud storages that offer business plans. They also offer you a 30-day money-back guarantee.
All pricing plans must be paid annually and not monthly.
---
Live Editing
You're unable to preview word, excel documents on the website and edit them live together with your colleagues. You'll just have to do it the standard way, which is still pretty usable. By installing the Sync application, you'll receive a virtual drive that is synced with your account. The virtual drive is just like any other hard drive on your computer, meaning you can edit your files there. When you're done editing you just save the file, and your colleague can continue working on it since you shared the folder with him.
---
File Syncing
You can install Sync application on Windows or Mac. Unfortunately, there's no Linux client, which is on their long-term roadmap. The mobile app is available for Android and iOS systems.
You will get a virtual drive when you install the application which works just like any other drive in your computer. You drag folders or files in and out, and they will get synced across all your devices.
Syncing speeds are quite fast. Your colleagues will be able to continue where you left off in a matter of seconds.

---
File Sharing
When compared to other cloud storages Sync.com doesn't offer you to specifically create teams and assign leaders like with pCloud. Instead, you can use the folder system to create sections within your business. If you, for example, wanted to create two separate teams that would each have separate storage you could just create two folders and share them with the employees of each team. Then you could give additional permissions to the team leader to manage the folder and invite new people if necessary.
In essence, you can share the files between your employees by creating shared folders or download links.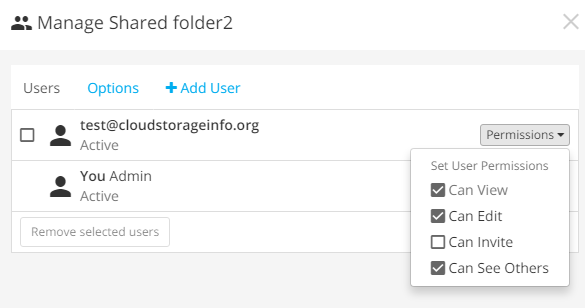 There's no monthly bandwidth limit when using the download links, so you don't have to worry about that. You can assign different settings to the download links:
Password protection
Expiry links
Download limits
Email notifications when there's activity on the link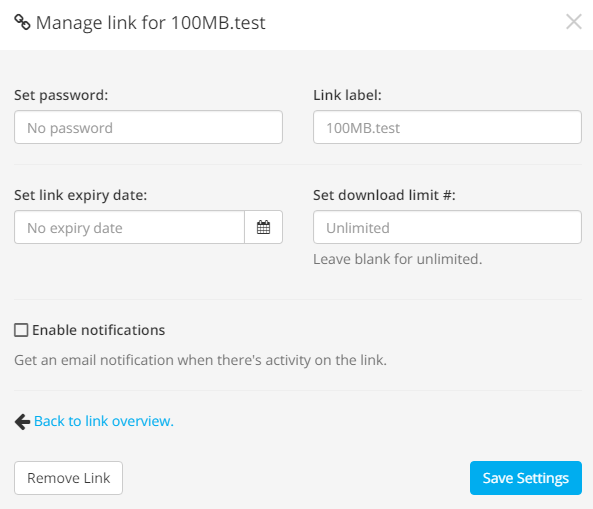 ---
Admin Tools
As an owner of a business account, you'll have the highest access and will be able to control everything that's happening in the cloud within your company. All in all, Sync.com provides useful tools for smaller businesses up to 50 people. Anything above that would get a bit unorganised since it lacks the ability to create teams and assign leaders. It also lacks more complex permissions system that would be needed for larger corporations. As long as you stay under 50 people, you will feel no shortage of admin tools.
---
Per-user file permissions
You'll be able to assign different permissions to your employees to individual folders and files. That way you'll be able to create groups of people with access to individual folders which will, in turn, increase security and organisation in your company.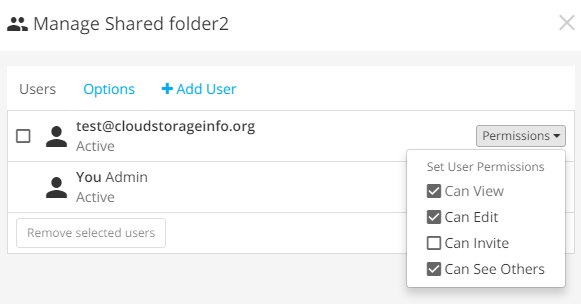 ---
Per-user remote wipe
At any time you'll be able to delete any files and folders from a user's computer or device. That comes extremely handy when working with freelancers for example. You allow them access to the files and once they're done with working a remote wipe cleans up all of the data saved on their computer.

---
File audit logs
Everything that happens in the cloud is under your supervision. All events such as logins from new devices, new uploads, new folders, new shares and so on are recorded in the "Events" tab. You can also filter the events by folder and date.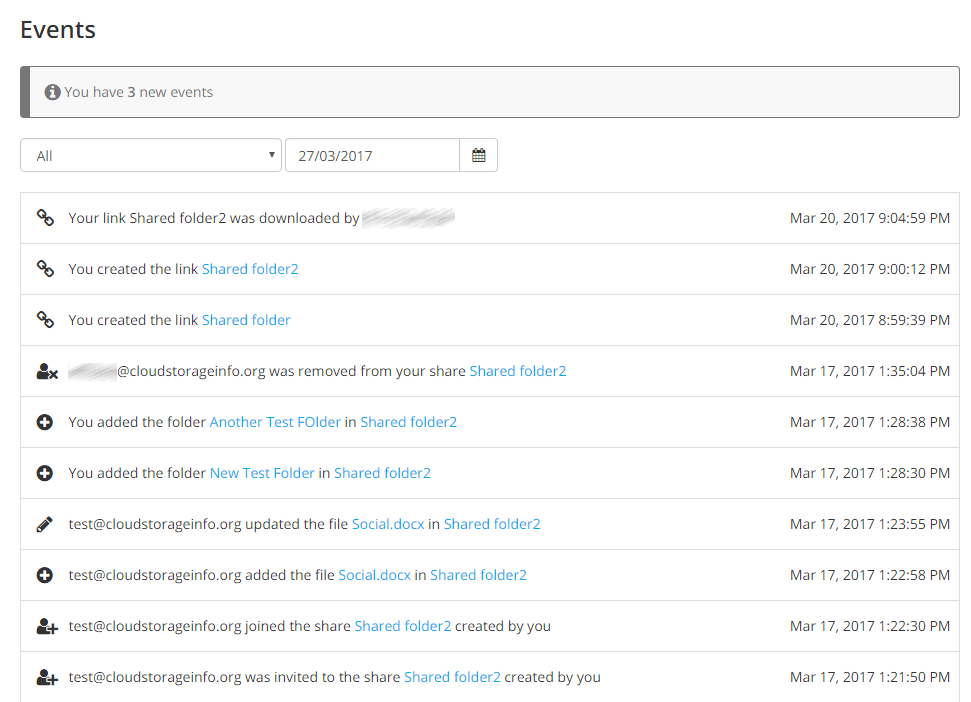 ---
Storage Features
---
File Size Limit
The size of files that you have on your cloud isn't limited.
File Versioning & Recovery
Every file that gets updated or removed from the cloud will be saved indefinitely. That means you'll be able to access all the versions of previous documents and also retrieve them from the trash bin. This is a crucial feature, especially for business owners. There's always a chance that files get accidentally overwritten or removed which usually results in a headache or something worse.
---
Security
To keep your files safe and secure Sync utilises zero-knowledge encryption on all files and file metadata. "Zero-knowledge" means they can't access or provide access to the encrypted data stored on their servers because only you have access to the encryption keys.
Sync.com also doesn't know or have access to your password. Retrieving a forgotten password will be a lot harder due to security reasons. A password can only be recovered once you have already installed their application on your device.
You can also create password hints, enable two-factor authentication or automatic log out.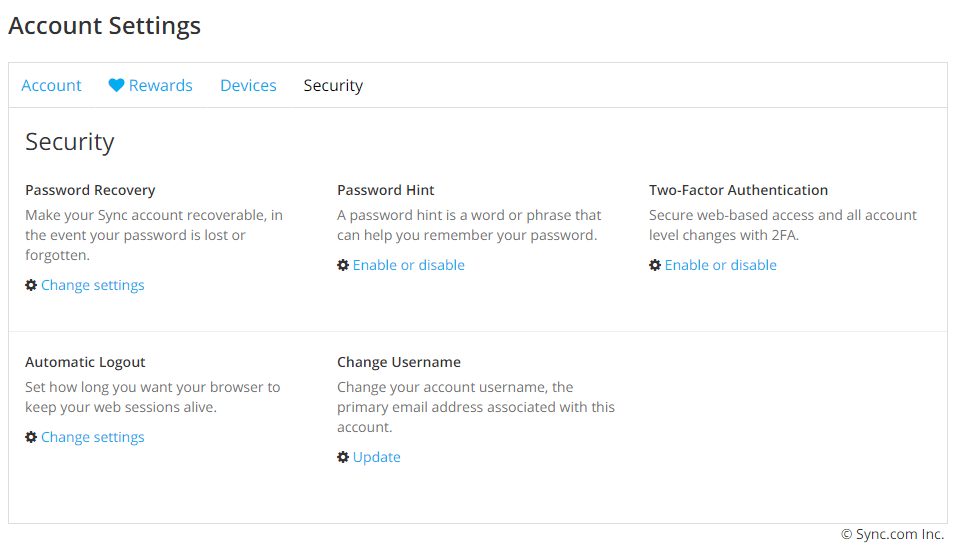 Their servers are located in Canada – Toronto and Ontario.
For the tech-savvies: Sync.com uses 2048 bit RSA, 256 bit AES, SSL and TLS encryption.
Sync.com is PIPEDA, PIPA, FIPPA, ATIPPA, PHIPA compliant. It's also not subject to the US Patriot Act.
Subpoena:
If Sync receives a subpoena, demanding the data stored on the server the following will happen: The content of the files that you store on our service is encrypted, and only you can decrypt it. Thus they will not be able to decrypt your data. If they're demanded to disclose your personal information such as your name, e-mail and mailing address they will do so. They will also do anything in their power, within legal boundaries, to inform you that your personal information has been disclosed.
HIPAA compliant cloud storage
Sync.com is HIPAA compliant which wasn't that hard to achieve since they offer the "Zero-knowledge" privacy and client-side encryption. If you're a healthcare company, you are necessary to guard your client's delicate information with the highest security. HIPAA compliance is given to any cloud service that fulfils the requirements that are necessary for the information to be kept safely. If you're a healthcare company, you'll need to sign a BBA (Bussiness associate agreement) which you can find here.
---
Support
Sync.com offers an extensive FAQ base for the general public. If you'll go for their business plan, you're given priority support through e-mail which means they'll answer the same day. They also guarantee a 99.9% uptime SLA (Service level agreement). Unfortunately, they don't offer any live support which is a must for larger corporations.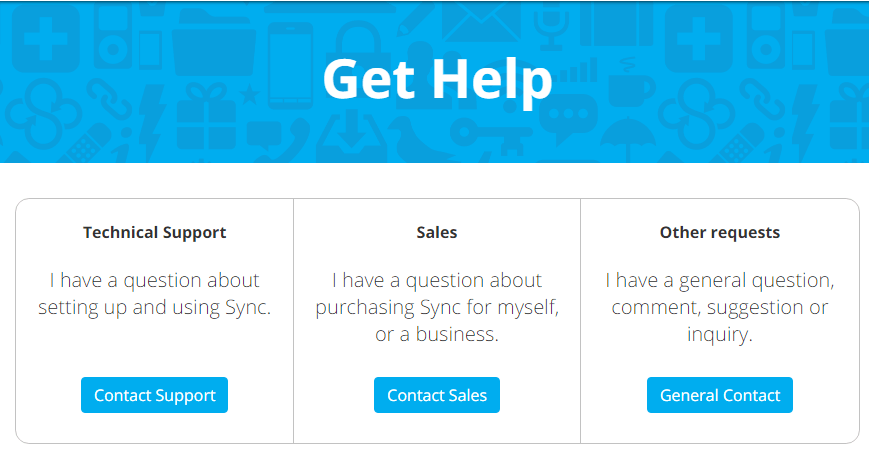 ---
Conclusion
Sync.com is absolutely a great choice for smaller enterprises. It offers affordable plans with great security and privacy system in place. The sole purpose of translation your company to the cloud is to increase the effectiveness of your team and lower the costs of maintaining a private cloud within your building. Sync.com certainly does that.
I do believe that this is a cloud service that provides one of the best sharing tools. You'll be able to stay on top of your employees with the admin tools that you have at your disposal. As I've said before, I do believe that this is a cloud service meant for smaller enterprises. If you're part of a larger corporation, I would suggest you find something more suitable to you on this Best Business Cloud Storage List.
I wish they would bring a Linux client which would increase the spread of their service by making it more useful. They should also try to implement live support which is lacking at the moment.
Check the Sync.com review for personal users to find a detailed explanation of all features.
---
---
Hopefully, we've gone through everything that you wanted to know about Sync.com within this Sync.com Business review. If you have any unanswered questions feel free to ask them in the comments section down below and I'll answer them shortly!