Microsoft Cloud Storage Free vs. Personal – OneDrive Review May 2019
OneDrive
Additional Features
8.0/10
Pros
Free student and teacher version
Integration with Microsoft programs
Responsive interface
Cons
Limited sharing options
No real versioning system
---
OneDrive Review - Quicky Summary
OneDrive Review: Is Microsoft cloud storage free for all it's users or do we have to pay for all those extra features? OneDrive is a mix of both. It is a Microsoft product which reflects on its quality. As a result, they have a range of plans that you can pick from with somewhat decent prices. It's especially suitable for students and teachers since you get your own Office and 1 TB of storage for free. In addition to that, it's easy to use and includes many integrated programs such as Word, Powerpoint, etc. File sharing and retrieving are rather limited. It feels like a proper cloud storage to use, but it could be better by a margin if they only tweaked and improved some of its features.
Find the best cloud storage by clicking here.
Read more about OneDrive down below.
---
Jump to:
Pricing & Plans
Who is it for ?
Ease of use
File syncing
File sharing
Retrieving files
Security
Online support
Additional features
Conclusion
---
Pricing & Plans
| | | | |
| --- | --- | --- | --- |
| Plan | Pricing | Storage | Details |
| OneDrive Free | Free | 5 GB | It comes with the all the basic features that you would expect in a cloud storage with 5 GB of storage. |
| OneDrive Basic | $1.99 / month | 50 GB | Your total storage is increased to 50 GB with OneDrive Basic. |
|  OneDrive + Office 365 Personal | $6.99 / month |  1 TB | This package comes with the full Office that you can install on your PC. |
| OneDrive + Office 365 Home | $9.99 / month |  1 TB each for 5 users | This packages allows up to 5 users to install Office and 1 TB for each of the 5 users. |
Expanding your free storage
You can increase your storage by inviting your friends to join you. Free storage can be extended to a total of 10 GB, 0,5 GB for each new user you bring. Not worth the effort, however, if you do know some friends that will find OneDrive useful, you might as well do it - It's free storage after all.
---
Who is it for ?
OneDrive was made to try and please the broad audience of the internet - Personal users, tech savvies, students and business owners. Let's say that they succeeded in doing that. I would especially recommend to use it if you're a student since you can get free Online Office and 1 TB of storage. I mean, how cool is that ?!
---
Ease of use
OneDrive is very similar to Google Drive. It integrates a lot of Microsoft applications like OneNote, Word, PowerPoint, Excel,... into OneDrive. Switching between them is very simple.
If you already own a Microsoft account (Outlook or Hotmail), you'll be able to set up OneDrive in seconds. As a matter of fact you probably already used it when you were sending a file to your friend or colleague over mail. If you don't own a Microsoft account yet, setting up one won't take long and is a simple process.
The interface itself is very responsive and user-friendly. Moving the files around feels the same as moving them over your desktop. It's simple to use and doesn't take long to learn it, even for a beginner.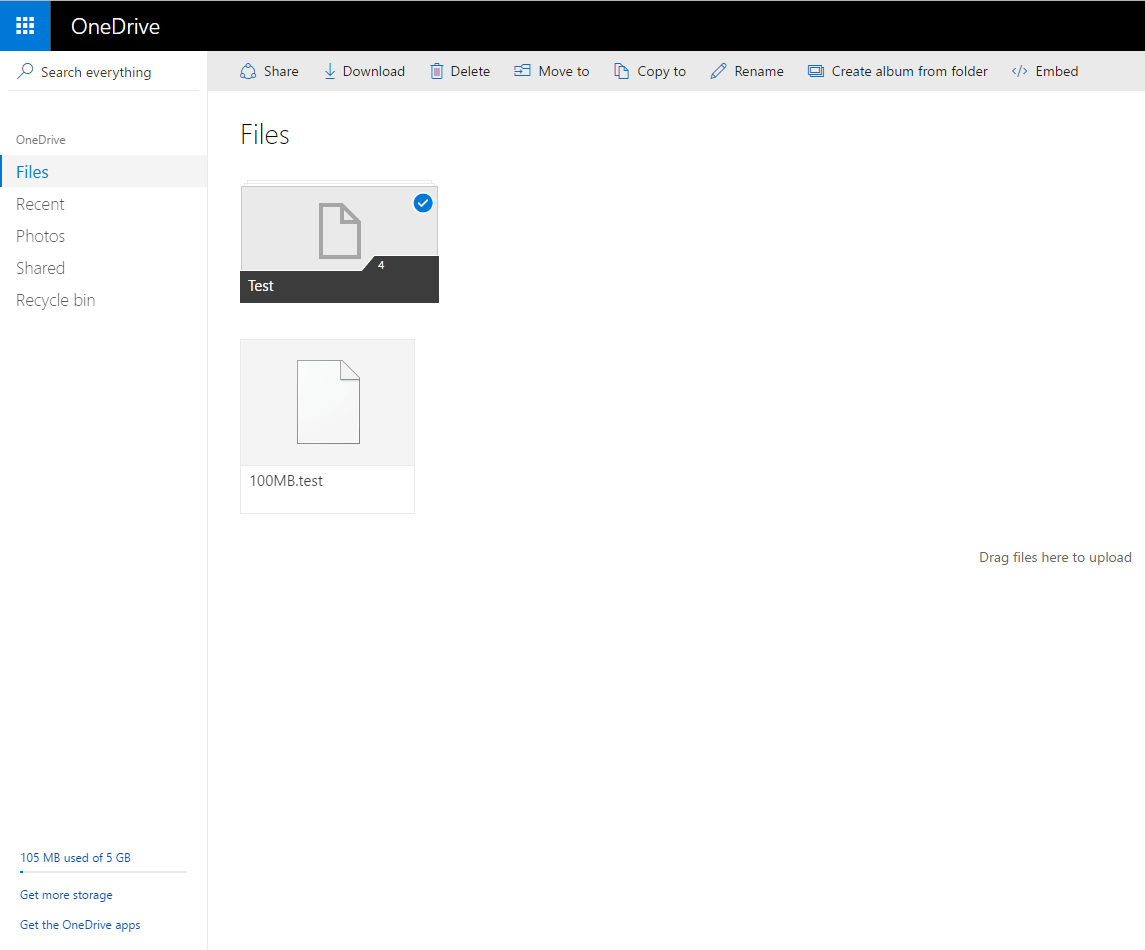 ---
File syncing
OneDrive offers a desktop application for your Windows and Mac. The application itself creates an imaginary drive to which you can then store your data, which you want to be synchronised across all your devices. You can decide on which folders you wish to be synced on which computer, which means that those files are then actually saved on that computers hard drive and are accessible even when you're offline. Data obviously won't synchronise with other devices when you're offline, though.
This is a feature that might not be to your liking, as you probably have limited space on your computer, hence the reason why you decided to get cloud storage. You can choose not to install the desktop app at all and that way access all the files on the internet.
The download and upload speeds are very decent and obviously, depend on your internet speed. Files are synced across all devices very quickly while you have them all connected to the web.

---
File sharing
There are multiple options on how you wish to share your files with other people. You can add people to view or edit your folders or files through e-mail, by creating links which you can then share or by sharing directly to social media. The options here are quite limited when compared to other cloud storage providers. You can't set a password to your link, neither can you set an expiry date. All in all, they could have improved this by a margin by just implementing this small and straightforward features.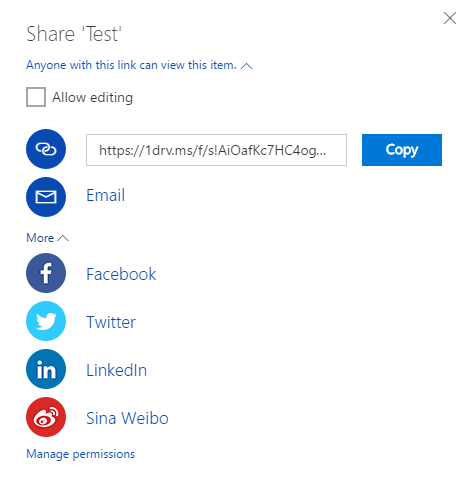 ---
Retrieving files
After you delete your file on the website, it's moved into the Recycle bin. It stays there for 30 days and gets permanently removed afterwards. In addition to that, if your recycle bin is full the oldest files will get automatically deleted after three days.
In case you deleted the file in your desktop application, it will be moved directly to your recycle bin on your hard drive. It will stay there until you remove it yourself.
File versioning isn't exactly part of OneDrive when we're talking about personal use. You can retrieve your data by using the desktop version and then the classical Windows file versioning system. If you want to know more about that, read it here.
File Versioning can be enabled only in the OneDrive Business.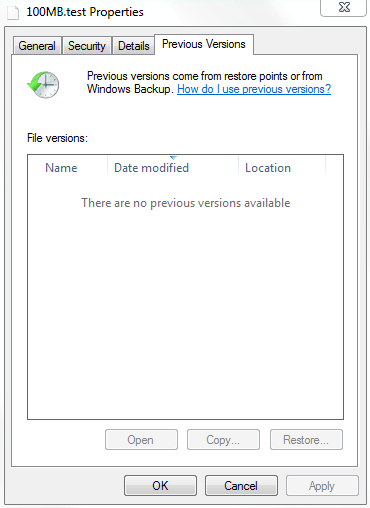 ---
Security
Data in transit are protected by SSL-protection, but only Business users get the additional protection of having their files protected while at rest. OneDrive for Business also offers per-file encryption, which gives each file its own encryption key - If one encryption key gets compromised, only one file will be in danger instead of your whole account. All OneDrive accounts come with the option of two-factor authenticator, which improves your account's security.
Unfortunately, OneDrive doesn't offer local encryption. If you want to know more about that and use a cloud storage that does, click here.
---
Online support
One of the good sides of OneDrive being a Microsoft product is that it has a very broad and decent support. There are many ways to find the answers:
FAQ base
Troubleshooting base
Common questions base
OneDrive Help
Contact support through a message
OneDrive Forum
And one last thing - Uncle Google. We all know that we can find everything there. It is true that you can't exactly call them, but if you run into a problem, there's a big chance that somebody already had that problem and the answer to it, is in one of those bases.
Contacting them might not be the best choice as they're known for their canned, prepared responses that don't help much.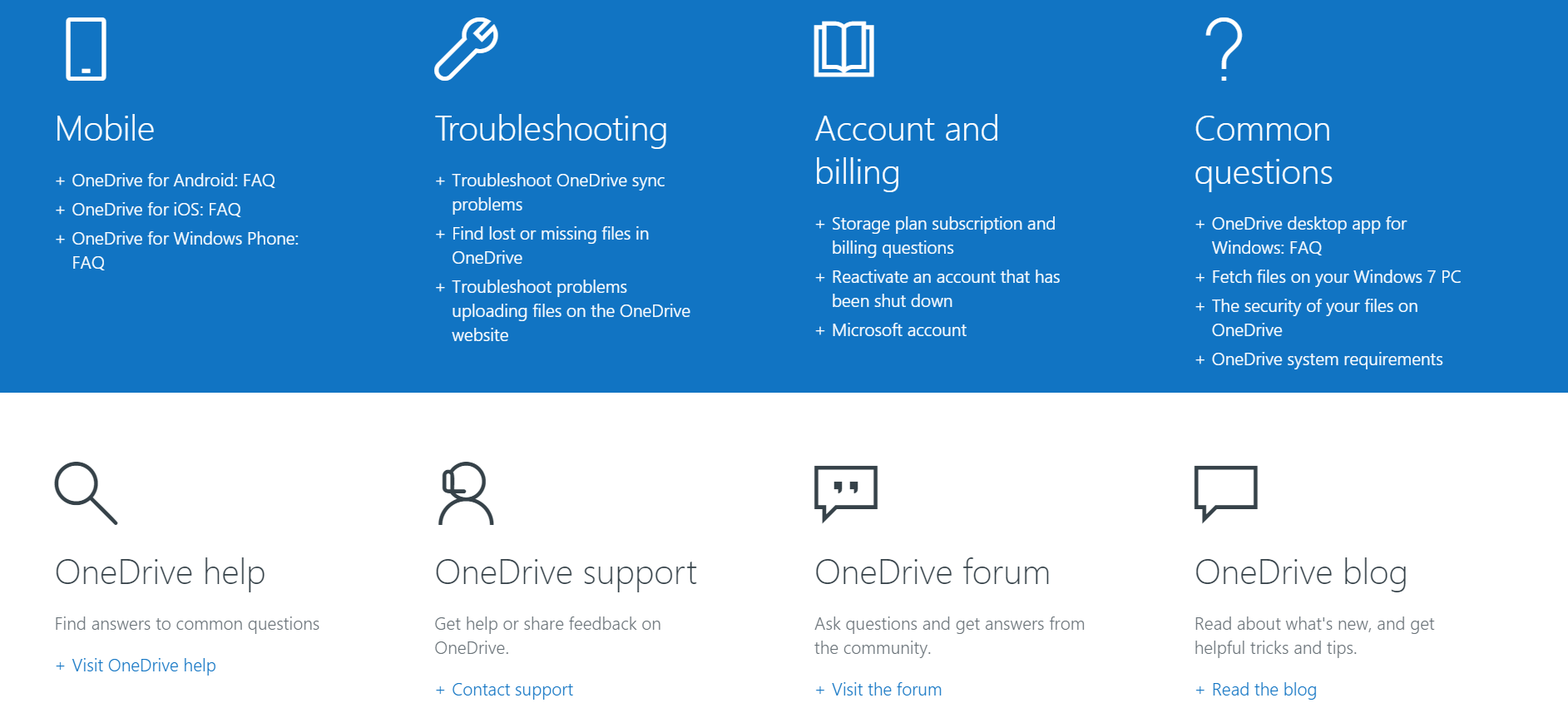 ---
Additional features
---
Office 365 Education - Free Office and storage for students and teachers
Office 365 Education is an accumulation of services that permit you to work together and share your schoolwork. It's accessible for nothing to educators who are right now working at an academic institution and to students who are attending an educational institution. The services incorporate Office Online (Word, PowerPoint, Excel, and OneNote), 1TB of OneDrive stockpiling, Yammer, and SharePoint sites. Some schools allow teachers and students to install the full Office applications on up to 5 PCs or Macs for free.
All you need to be able to get yourself a free Office and 1 TB of storage is that you're currently attending classes and have an e-mail that was provided by your school.

---
Mobile Application
You can install OneDrive on your iOS, Android, Blackberry or Windows phone.
The application for iOS feels very well made and responsive. There are plenty of options of how you wish to save your files, from backing up your photos to creating your word document directly on your iPhone. On the other hand, it doesn't have any settings where you could personalise the application to your liking, e.g. protect your files with a password.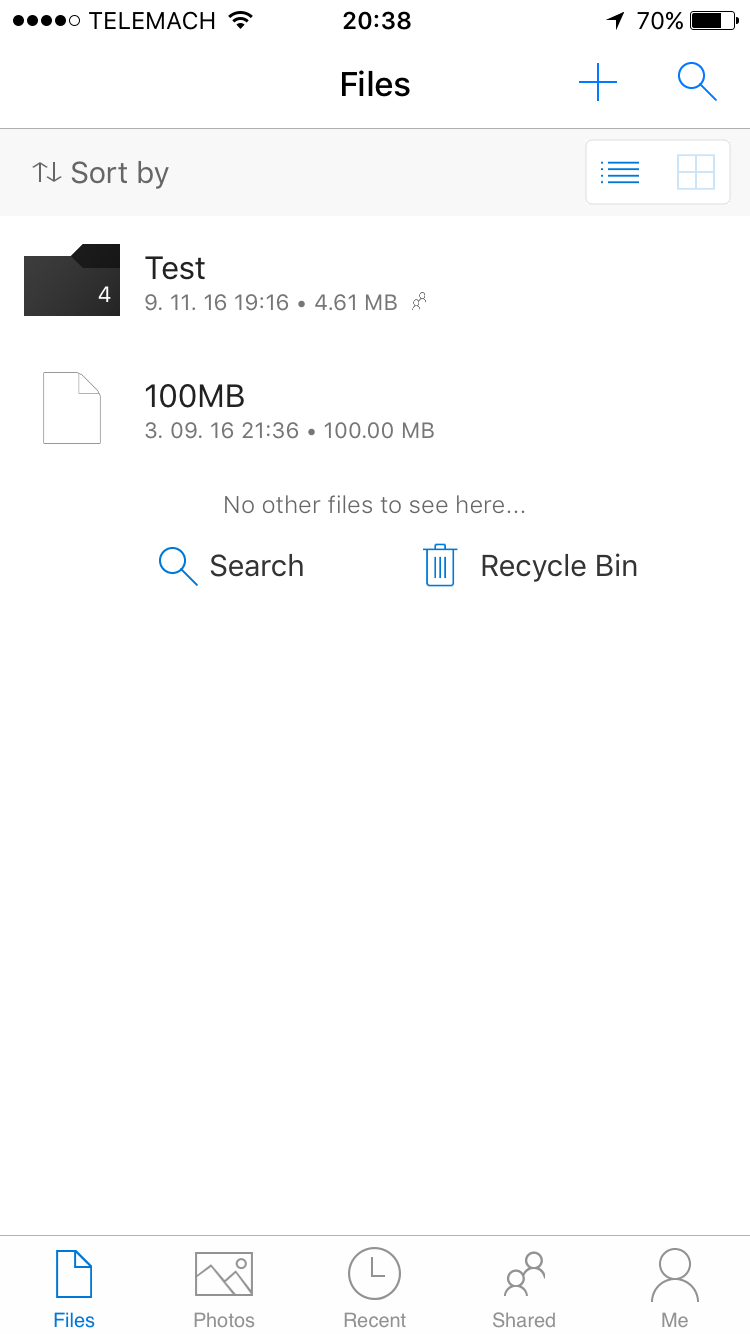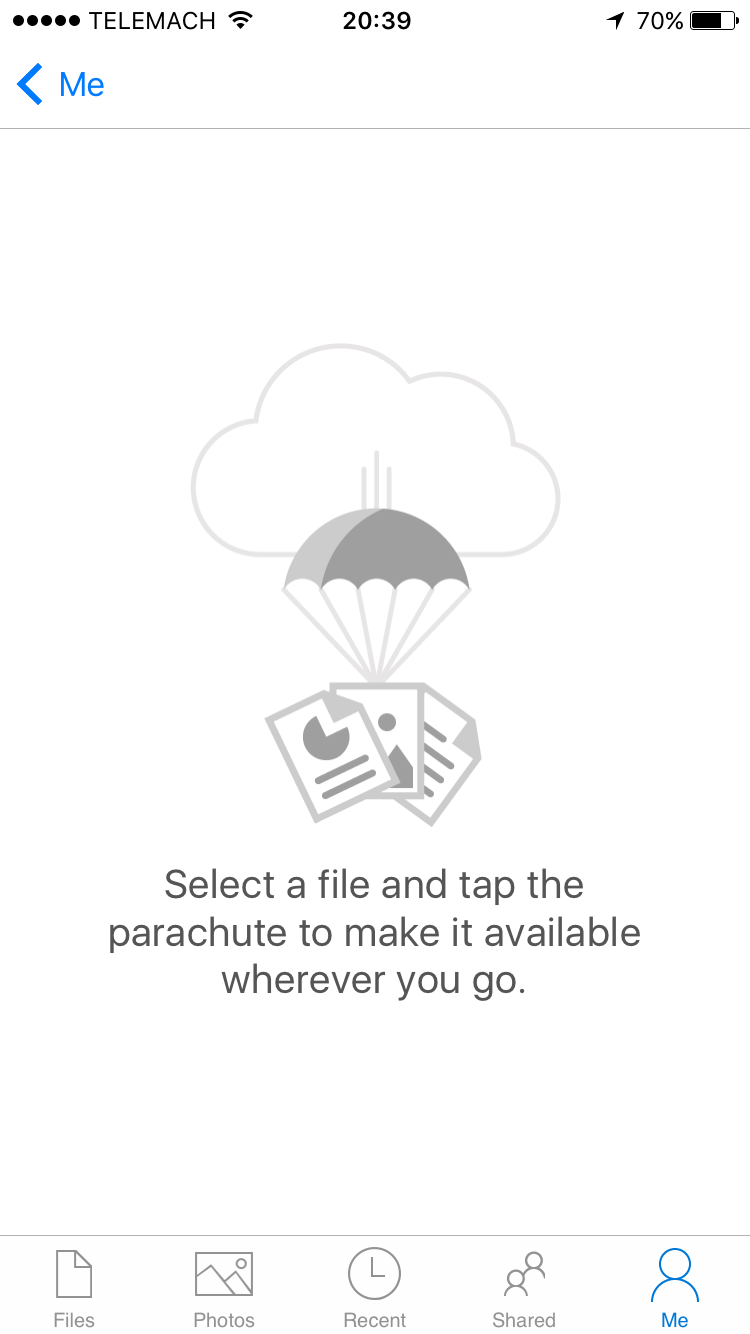 ---
Conclusion
OneDrive is one of the better cloud storages that you can pick from. Having said that, I still believe that there is room for improvement in many of its features. If you're a personal user looking to store just a few documents, you won't have an issue in doing so. Students will also be immensely satisfied by the free 1 TB that OneDrive offers.
But, as I said, some features could be developed even further. If you still have any questions regarding OneDrive that haven't been answered within this OneDrive review, feel free to post a comment, and I'll reply shortly.
---
---
YOUR OPINION MATTERS! Review OneDrive yourself as well by posting a comment below. Would you just like to share or ask something ? Just skip the review part!