Cloudoza
$2.08/month 10TB
Additional Features
1.0/10
Pros
20 GB Free Storage
Cheap 10 TB Plan
Responsive interface
Decent sharing options
Cons
No desktop client
No mobile application
No file versioning system
Copied the security page from another cloud storage provider
No client-side encryption
No two-factor authentication
Uses a bought script "BeDrive"
---
Cloudoza Review
Cloudoza is one of the newest cloud storage providers on the market and that certainly shows in terms of their features. During this Cloudoza review we'll find out that some things work pretty well but they're very far from becoming my go-to option for cloud storage.
IMPORTANT: Cloudoza as a service has shut down months from going live and no longer exists.
Read the full Cloudoza review down below.
---
Cloudoza Alternatives
| # | Service | Rating | Description | Paid Plan | Go To |
| --- | --- | --- | --- | --- | --- |
| 1 | pCloud | Read review | pCloud is a great cloud service that takes pride in offering the highest protection available (client-side encryption included) with amazing syncing solutions. It was also the first cloud storage to introduce innovative LIFETIME plans. It is easy to use and is one of the best cloud storage solutions on the market. 10 GB of free storage. | $4.99/month 500 GB | Go to pCloud |
| 2 | Sync.com | Read review | Sync.com is a Canadian cloud storage that utilizes the Zero-knowledge principle. It offers unparalleled privacy and security (via client-side encryption) with great syncing, sharing and file retrieving solutions. 5 GB of free storage. | $8/month 2000 GB | Go to Sync.com |
| 3 | Icedrive | Read review | Icedrive is a UK cloud storage with a main focus on the security of your files. They achieve that with Twofish client-side encryption which certainly raises a few eyebrows. A slick-looking minimalistic design combined with great mobile apps and interesting LIFETIME plans makes them an interesting choice! 10 GB of free storage. | €4.99/month 1000 GB | Go To Icedrive |
| 4 | MEGA | Read review | MEGA offers a secure cloud storage with client-side encryption. It has a modern/responsive interface. The online support is limited and down/upload speeds could be better. 15 GB of free storage. | €4.99/month 400 GB | Go to MEGA |
| 5 | Tresorit | Read review | Tresorit protects your files with Swiss privacy laws and client-side encryption. It has amazing syncing speeds, sharing options and excells in pretty much all other areas but takes the bullet with very expensive and uncompetitive prices. 3 GB of free storage. | €9.99/month 500 GB | Go to Tresorit |
---
Jump to:
Pricing & Plans
Who is it for?
Ease of use
File syncing
File sharing
Retrieving files
Security
Online support
Additional features
Conclusion
---
Cloudoza Features
| | www.cloudoza.me |
| --- | --- |
| Pricing & Plans | |
| Free storage | 20 GB |
| Free trial | |
| Lifetime plans | |
| Payment methods | Credit card, PayPal |
| Ease of use | |
| Open in-browser | PDF, Videos, Images, Music |
| Edit in-browser | |
| Mobile apps | |
| WebDAV | |
| File syncing | |
| Supported systems | |
| Imaginary drive | |
| Sync folder | |
| Block-level file sync | |
| Selective sync | |
| Sync any folder | |
| File sharing | |
| Share download links | |
| Link password protection | |
| Link expiration dates | |
| Link branding | |
| Link download limits | |
| Link stats | |
| Share upload links | |
| Share folders | |
| Set folder permissions | |
| Retrieving files | |
| File versioning system | |
| Trash bin | |
| Rewind feature | |
| Security | |
| Server location | |
| HIPAA Compliance | |
| Encryption protocol | |
| At-rest encryption | |
| In-transit encryption | |
| Client-side encryption | |
| Zero-knowledge privacy | |
| Two-factor authentication | |
| Online support | |
| FAQ base | |
| Forums | |
| E-mail support | |
| Live chat support | |
| Phone support | |
---
Pricing & Plans
Cloudoza certainly stands out in the crowd with the very cheap Pro plan and a generous number of free gigabytes. It's what really makes them appealing but only time will tell if they can keep up with these prices. My guess is that they want to attract new customers via this method and then eventually raise the prices or completely change their plans. But as it stands right now they're certainly the cheapest option out there. They accept PayPal, Visa, MasterCard, American Express and Discover.
The Pro plan also comes with 24/7 support.
---
Cloudoza offers no lifetime cloud storage plans.
---
Who is it for?
Cloudoza is as basic as basic gets when it comes to cloud storage. They offer the browser experience and no other desktop or mobile apps. You can find far better alternatives at our Best Cloud Storage Providers list.
---
Ease of use
Making an account is simple like with all other cloud storage providers (you can also use Facebook to log in). Once registered and inside you're greeted with a standard looking user interface. I can't say that I am very fond of the colour scheme but that isn't that important. What is important is that the user interface works well and allows you to manage your files with ease. Cloudoza does an okay job here, the interface is responsive and the files are easily accessible.
They don't say this anywhere but they're indeed using BeDrive (the same as ThunderDrive). BeDrive is a script that can be bought for $49 and then used to set up a cloud storage platform. It's a good script but it tells a story about the cloud storage provider.

On the left you have the menu which lets you upload files or folder or access already existing files in the cloud:
My Drive – Access all of the uploaded folders & files.
Shared with me – Displays files and folders shared with you.
Recent – Displays files that have been uploaded or changed recently.
Starred – Shows all of the files you marked for quick access.
Trash – Shows deleted files.
Knowledgebase – A link to the FAQ base provided by Cloudoza.
On the right, you have quick access to file information. It's also possible to switch between list and tiled view. If you're a fan of the lately popular dark modes, that is also available by clicking on your e-mail in the top right corner. I have to say I haven't seen this available with any other cloud storage so it's definitely a bonus.

There are no file size or type limits with Cloudoza which is good.
File previews & edits
It's very useful if the cloud storage provider allows you to preview files directly in the cloud – That's especially true for Cloudoza since they provide no desktop client that would allow you to synchronise files with the cloud.
Previewing PDF files seemed to have worked just fine but it isn't possible to preview Office files which are often-times needed. Streaming videos, listening to music and watching images is all possible directly from the browser though which is great.
---
File syncing
Cloudoza provides no desktop client that you could use on your computer to access files in the cloud. As such, any kind of synchronisation is also off the table. According to their support, the desktop client is on their roadmap but there's no ETA for that yet. To me, that's a huge downside as I want to be able to access all of the files in the cloud right from my desktop.
---
File sharing
Sharing files with Cloudoza is actually quite advanced when it comes to their download links. You're able to:
Set link expiration dates.
Set a password protection on the link.
Allow edits to be made to the files within the shared link (keep in mind that a Cloudoza account will be needed on the other end to edit the files).
Set a link as "view only" and that way prevent downloads.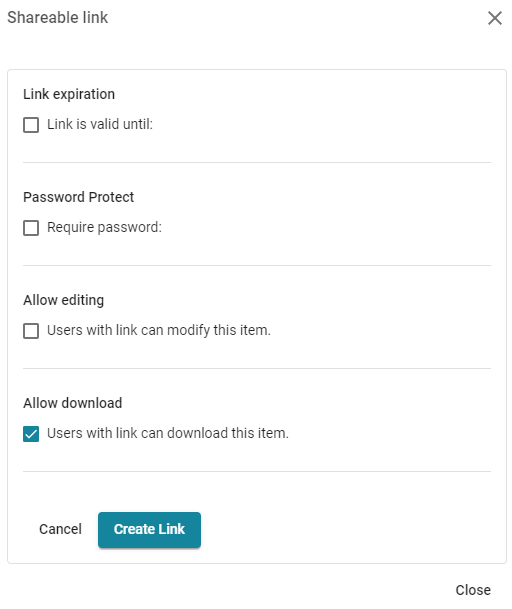 It's also possible to invite people to your folders and share the folders with them with various degrees of permissions:
Can edit
Can download
Can view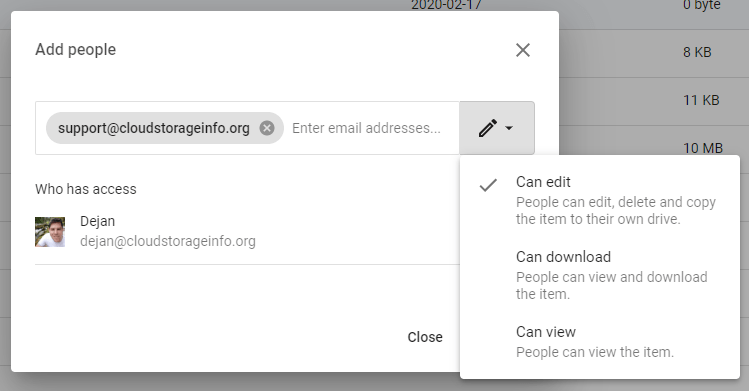 ---
Retrieving files
Items that have been deleted stay in the trash bin for 30 days after which they're permanently deleted from cloud storage. Unfortunately, there's no file versioning system available with Cloudoza.
---
Security
I was going to write up everything that Cloudoza features in terms of security. It's clear that they provide no client-side encryption so you can say goodbye to zero-knowledge privacy (unlike with pCloud, Icedrive and Sync.com). Two-factor authentication is also not available. Cloudoza does provide an extensive list in regards to their security measures such as:
Hosted in premier Tier IV data centre facilities that are fully redundant and certified for SOC-2 and ISO 27001 compliance.
Staffed 24/7/365 with on-site security personnel.
Cloudoza encrypts data at rest and data in transit to prevent leakage and ensure privacy.
All communications with Cloudoza are transmitted using HTTPS.
Now that's all great but then this all sounded familiar already. I went to the "Security" page listed at ThunderDrive and shockingly found out that it is a direct copy. I don't know who copied whose page but one thing is clear to me. If they copied the text explaining the security features from another cloud storage provider, can you really trust them with your data and trust them that what they say is true? I certainly wouldn't be willing to. Just on that basis, Cloudoza gets the lowest score in my book when it comes to security and doesn't make it to our most secure cloud storage list.
---
Online support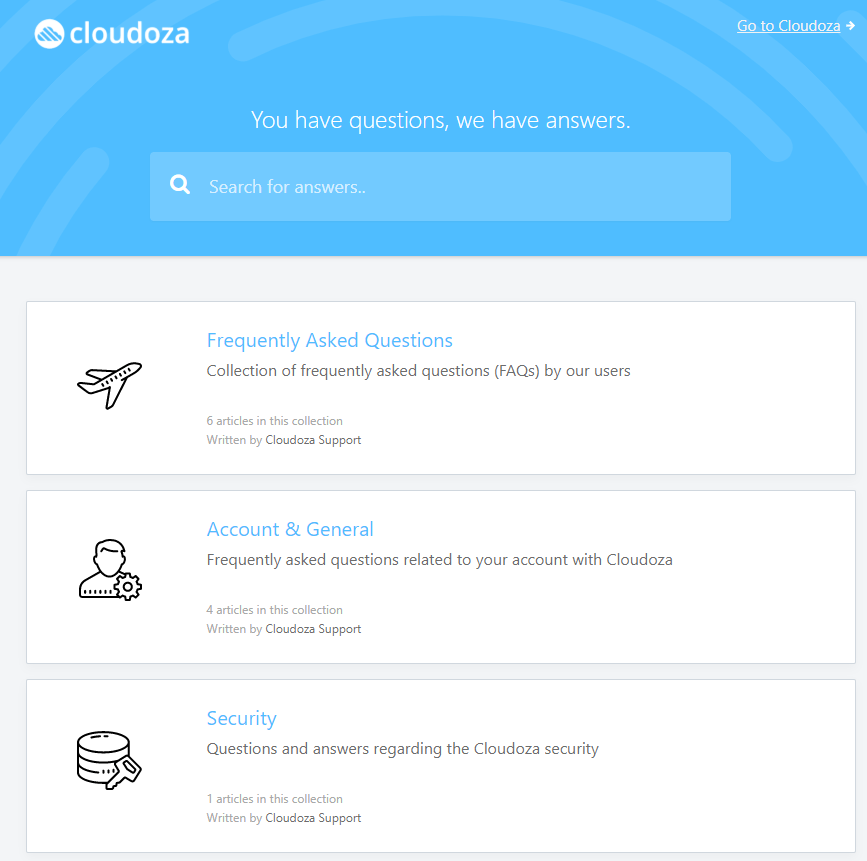 Cloudoza has an FAQ base which contains answers to around 11 questions so that's not much of a help if you run into technical problems or just need other help. You can contact them via e-mail and they did respond to my inquiry within a day (although they haven't received my first e-mail for some reason, or so I've been told?). They also mention a "Live chat" support in their FAQ base but I am yet to find that "Live chat" button in the bottom right corner. I don't think it actually exists.
---
Additional features
---
Mobile Application
Cloudoza provides no mobile application or any other additional features that I could point out. I've been told that their team is currently working on a mobile application so let's hope that comes out soon.
---
Conclusion
Cloudoza offers a decent cloud storage solution if you just need to deposit a few files online and that's it. I wouldn't recommend using it for daily tasks though, with no desktop or mobile apps available, the security of your files also isn't guaranteed with the way they copied their security page from another cloud storage provider. The only thing going for them are the decent sharing options alongside the cheap paid 10 TB plan. I recommend you take a look at our Top 10 Cloud Storage Providers list before taking the leap though…
---
---
Hopefully, we've gone through everything that you wanted to know about Cloudoza within this Cloudoza review. If you have any unanswered questions feel free to ask them in the comments section down below and I'll answer them shortly!