ADrive Review – SCAM Or LEGIT? – Updated November 2019
ADrive Review – Quick summary
Is ADrive scam or a legit way to store your data? ADrive is a "get as much money as possible for as little features as possible" service. The pricing plans and everything around the service is terrible. Users have also been reporting that they've lost significant amounts of data. If you're looking for a cloud storage, then you should avoid ADrive and check our Top 10 Cloud Storage Providers list.
You can read more about ADrive down below.
---
ADrive Alternatives
---
Jump to:
Pricing & Plans
Who is it for?
Ease of use
File syncing
File sharing
Retrieving files
Security
Online support
Additional features
Conclusion
---
Pricing & Plans
ADrive offers expensive plans which are in no way comparable to current cloud storage providers. At the start, you receive a 60 day trial period in which you have 100 GB of the free cloud storage. After that, you either start paying for it, or you leave. Here are their plans: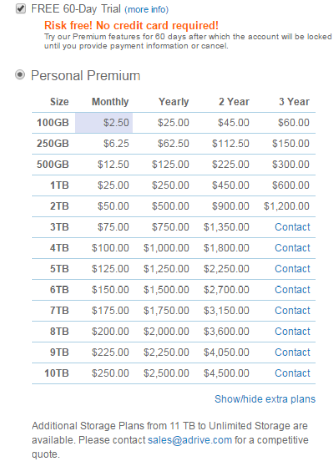 ---
Who is it for?
I would advise you not to use this cloud storage. Click here to find the best cloud storage.
---
Ease of use
The interface itself looks appalling and outdated, not to mention the long loading times for the pages to load up. You can store your files like in any other cloud storage, but the service is very poor.
---
File syncing
ADrive offers you to install their ADrive Desktop 2.2 application, and if you search Google, you will be able to find numerous ways and guides on how to uninstall it. It allows you to set up your imaginary drive, like any other. Once again the interface fails to meet my expectations.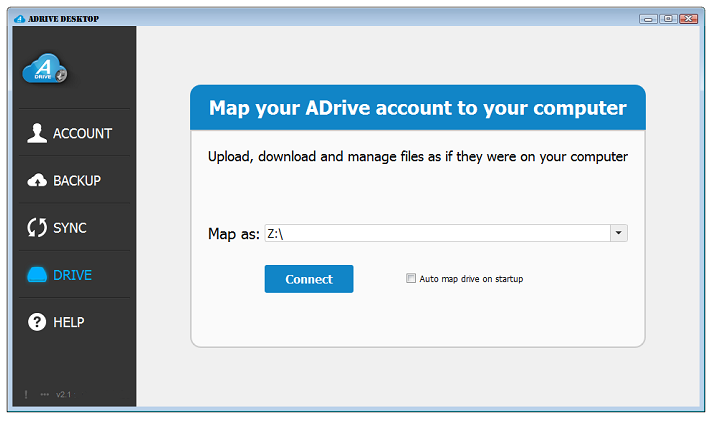 ---
File sharing
I've tried creating a public folder, but it just wouldn't let me – Showing up some error. I could contact their support, but what's the point?
---
Security
ADrive uses SSL protection and has your files stored in multiple locations. This is obviously old information, and I am fairly sure that their systems are outdated.
---
Online support
ADrive offers basic FAQ section and the option to e-mail them in case you need help. Bear in mind that they will only answer to premium and business users while the rest are forced to use the forums.
---
Additional features
---
Mobile application
They've created an app for Android and iOS users. It offers essential features and the option to manage your files wherever you are. It looks like this:
---
Conclusion
To be honest with you ADrive has confirmed my expectations. I have done my research about them, and all I've been seeing is bad user reviews. I can now confirm that they were right. The interface is outdated, it responds very slowly, the features are very limited, and they try to squeeze every penny out of you. Not to mention that I haven't seen anything about the security and safety of ADrive. It makes me wonder if they even protect your files in any way.
I would advise anyone looking for cloud storage, backup program or anything of the sort, do NOT use this service. It's just awful, and there are so many better options that you can choose from.
---
---
Hopefully, we've gone through everything that you wanted to know about ADrive within this ADrive review. If you have any unanswered questions feel free to ask them in the comments section down below and I'll answer them shortly!