---
ADrive Review
ADrive is a "get as much money as possible for as little features as possible" service. The pricing plans and everything around the service is terrible. I have also during this ADrive review noticed plenty of users reporting that they've lost significant amounts of data. If you're looking for a cloud storage, then you should avoid ADrive and check our Top 10 Cloud Storage Providers list.
Read the full ADrive review down below.
---
ADrive Alternatives
| # | Service | Rating | Description | Paid Plan | Go To |
| --- | --- | --- | --- | --- | --- |
| 1 | pCloud | Read review | pCloud is a great cloud service that takes pride in offering the highest protection available (client-side encryption included) with amazing syncing solutions. It was also the first cloud storage to introduce innovative LIFETIME plans. It is easy to use and is one of the best cloud storage solutions on the market. 10 GB of free storage. | $4.99/month 500 GB | Go to pCloud |
| 2 | Sync.com | Read review | Sync.com is a Canadian cloud storage that utilizes the Zero-knowledge principle. It offers unparalleled privacy and security (via client-side encryption) with great syncing, sharing and file retrieving solutions. 5 GB of free storage. | $8/month 2000 GB | Go to Sync.com |
| 3 | Icedrive | Read review | Icedrive is a UK cloud storage with a main focus on the security of your files. They achieve that with Twofish client-side encryption which certainly raises a few eyebrows. A slick-looking minimalistic design combined with great mobile apps and interesting LIFETIME plans makes them an interesting choice! 10 GB of free storage. | €4.99/month 1000 GB | Go To Icedrive |
| 4 | MEGA | Read review | MEGA offers a secure cloud storage with client-side encryption. It has a modern/responsive interface. The online support is limited and down/upload speeds could be better. 15 GB of free storage. | €4.99/month 400 GB | Go to MEGA |
| 5 | Tresorit | Read review | Tresorit protects your files with Swiss privacy laws and client-side encryption. It has amazing syncing speeds, sharing options and excells in pretty much all other areas but takes the bullet with very expensive and uncompetitive prices. 3 GB of free storage. | €9.99/month 500 GB | Go to Tresorit |
---
Jump to:
Pricing & Plans
Who is it for?
Ease of use
File syncing
File sharing
Retrieving files
Security
Online support
Additional features
Conclusion
---
ADrive Features
| | www.adrive.com |
| --- | --- |
| Pricing & Plans | |
| Free storage | |
| Free trial | 60 days |
| Lifetime plans | |
| Payment methods | Credit card, PayPal |
| Ease of use | |
| Open in-browser | Office, PDF, Music, Images, Videos |
| Edit in-browser | Office & Google Integration |
| Mobile apps | Android |
| WebDAV | |
| File syncing | |
| Supported systems | Windows |
| Imaginary drive | |
| Sync folder | |
| Block-level file sync | |
| Selective sync | |
| Sync any folder | |
| File sharing | |
| Share download links | |
| Link password protection | |
| Link expiration dates | |
| Link branding | |
| Link download limits | |
| Link stats | |
| Share upload links | |
| Share folders | |
| Set folder permissions | |
| Retrieving files | |
| File versioning system | |
| Trash bin | |
| Rewind feature | |
| Security | |
| Server location | US |
| HIPAA Compliance | |
| Encryption protocol | Unknown |
| At-rest encryption | |
| In-transit encryption | |
| Client-side encryption | |
| Zero-knowledge privacy | |
| Two-factor authentication | |
| Online support | |
| FAQ base | |
| Forums | |
| E-mail support | |
| Live chat support | |
| Phone support | |
---
Pricing & Plans
ADrive offers expensive plans which are in no way comparable to current cloud storage providers. At the start, you receive a 60 day trial period in which you have 100 GB of the free cloud storage. After that, you either start paying for it, or you leave. Here are their plans: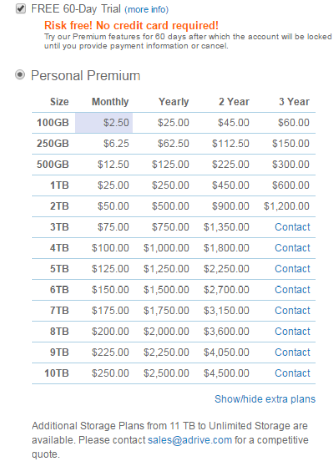 ADrive offers no lifetime cloud storage plans. ADrive is very expensive for what it offers and is certainly not amongst the cheap cloud storage providers out there.
---
Who is it for?
I would advise you not to use this cloud storage. Click here to find the best cloud storage.
---
Ease of use
The interface itself looks appalling and outdated, not to mention the long loading times for the pages to load up. You can store your files like in any other cloud storage, but the service is very poor.
---
File syncing
ADrive offers you to install their ADrive Desktop 2.2 application, and if you search Google, you will be able to find numerous ways and guides on how to uninstall it. It allows you to set up your imaginary drive, like any other. Once again the interface fails to meet my expectations. While it does offer cloud backup of your files it's certainly not the best solution for that either.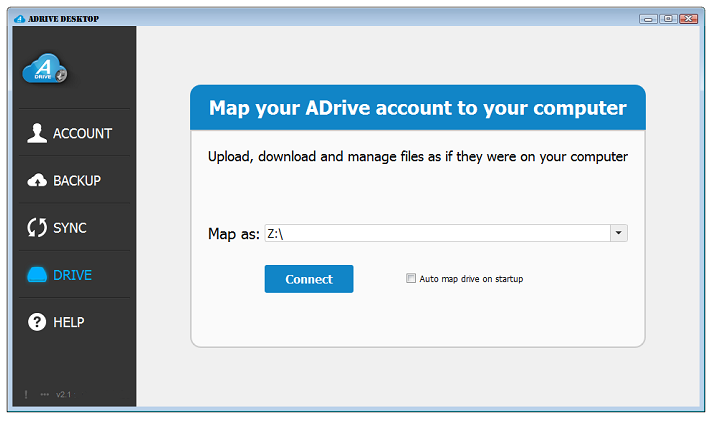 ---
File sharing
I've tried creating a public folder, but it just wouldn't let me – Showing up some error. I could contact their support, but what's the point?
---
Security
ADrive uses SSL protection and has your files stored in multiple locations. This is obviously old information, and I am fairly sure that their systems are outdated. Safety of your files at ADrive is questionable at best which is why we recommend taking at more secure cloud storage providers.
There's no client-side encryption or zero-knowledge privacy. ADrive is also not HIPAA compliant.
---
Online support
ADrive offers basic FAQ section and the option to e-mail them in case you need help. Bear in mind that they will only answer to premium and business users while the rest are forced to use the forums.
---
Additional features
---
Mobile application
They've created an app for Android and iOS users. It offers essential features and the option to manage your files wherever you are. It looks like this:
---
Conclusion
To be honest with you ADrive has confirmed my expectations. I have done my research about them, and all I've been seeing is bad user reviews. I can now confirm that they were right. The interface is outdated, it responds very slowly, the features are very limited, and they try to squeeze every penny out of you. Not to mention that I haven't seen anything about the security and safety of ADrive. It makes me wonder if they even protect your files in any way.
I would advise anyone looking for cloud storage, backup program or anything of the sort, do NOT use this service. It's just awful, and there are so many better options that you can choose from.
---
---
Hopefully, we've gone through everything that you wanted to know about ADrive within this ADrive review. If you have any unanswered questions feel free to ask them in the comments section down below and I'll answer them shortly!